Pembelajaran Cepat English Grammar Tenses Rules dengan penerapan kolaborasi Website dan Android
Abstract
English is an international language, most developing or developed countries make English a second language in daily communication. One of the reasons learning English is important to learn. By providing English lessons from an early age, as the initial foundation for developing English language education is one way to compete with this Nation in the international world. The urgent discussion in English is how to make good and correct sentences, according to the rules of English. This learning is in the discussion of tenses, tenses are the rules for writing sentences from subject verb (verb) objects or information that are in accordance with the conditions of the time that occur (present, past or future). So that learning is not boring, the media that will be used are website and Android based, so that it is more interactive and learning English is fun. Website as a data or information manager so that learning is dynamic and Android as a medium for accommodating the results of the website. This collaboration will make learning faster, more interactive and sustainable. The results of this study are to build and design web and android applications regarding the discussion of Grammar Tense Rules quickly and correctly.
Keywords
English, Tense rules, Website, Android
Article metrics
Abstract view : 0 times
PDF (Bahasa Indonesia) - 0 times
Refbacks
There are currently no refbacks.

This work is licensed under a
Creative Commons Attribution 4.0 International License
.
Indexed by:
Managed by.
Department of Informatics Engineering
Politeknik Negeri Cilacap
Jln. Dr.Soetomo No.01 Sidakaya, Cilacap, Indonesia
Telp: (0282) 533329
Email: jinita.ejournal@pnc.ac.id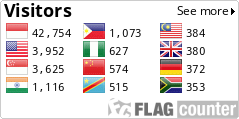 JINITA is licensed under a Creative Commons Attribution 4.0 International License.