Pemanfaatan E-Commerce dengan Metode FAST untuk Strategi Pemasaran pada Zerroart
Abstract
Implementation of technology in commerce and business is absolutely necessary as a strategy to increase sales and expand marketing through online services in the form of web e-commerce. Zerroart is a distro that tries to take advantage of technology in sales services to compete and increase sales results. Sales conventional during the Covid 19 pandemic are felt to be unable to increase sales results and the number of buyers is limited. This study analyzes the needs of Zerroart in achieving its goals and develops a web-based system using the Framework for the Application of System Thinking (FAST) model. The method used in analyzing uses object-oriented methods with UML modeling. Based on the test results, the e-commerce website can be used easily by users and real-time transactions. The developed web displays features that match the needs of Zerroart where consumers can see all available products, place orders and make payments.
Keywords
e-commerce; UML; Online marketing; FAST model; Object Oriented
DOI:
https://doi.org/10.35970/jinita.v3i1.636
Article metrics
Abstract view : 0 times
PDF (Bahasa Indonesia) - 0 times
Refbacks
There are currently no refbacks.

This work is licensed under a
Creative Commons Attribution 4.0 International License
.
Indexed by:
Managed by.
Department of Informatics Engineering
Politeknik Negeri Cilacap
Jln. Dr.Soetomo No.01 Sidakaya, Cilacap, Indonesia
Telp: (0282) 533329
Email: jinita.ejournal@pnc.ac.id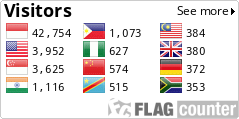 JINITA is licensed under a Creative Commons Attribution 4.0 International License.