Penentuan Karyawan Terbaik Home Industry Ramayana Menggunakan Metode Analytical Hierarchy Process (AHP)
Abstract
Employees in the company are the main resources required to be able to provide the best service and optimal performance. The selection of the best employees in a company is very important because it will determine the company's progress in the future. A home industry in East Kotawaringin Regency has 3 permanent employees. This Ramayana cracker business owner wants to know the best performance of his 3 employees, one of the effective ways in selecting employees is by implementing a decision support system and by using the Analytical Hierarchy Process (AHP) method, we make this research to help business owners to their problem is solved. This study aims to complete practical decision making and have alternative choices for decision-makers, in order to choose the best employees in their home industry. The results of this study are aimed at home industry business owners in order to find out the best employees in this Ramayana home industry business.
Keywords
Decision Support System;AHP;performance;employees
DOI:
https://doi.org/10.35970/jinita.v1i01.83
Article Metrics
Abstract view : 170 times
PDF (Bahasa Indonesia) - 31 times
Refbacks
There are currently no refbacks.
Copyright (c) 2019 Journal of Innovation Information Technology and Application (JINITA)

This work is licensed under a
Creative Commons Attribution-ShareAlike 4.0 International License
.
Indexed by:
Managed by.
Department of Informatics Engineering
Politeknik Negeri Cilacap
Jln. Dr.Soetomo No.01 Sidakaya, Cilacap, Indonesia
Telp: (0282) 533329
Email: jinita.ejournal@pnc.ac.id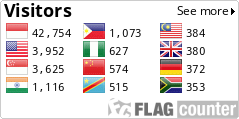 This work is licensed under a Creative Commons Attribution 4.0 International License.