Integrasi Pembayaran Pamsimas Desa Dermaji dengan PPOB Menggunakan Web Service
Abstract
The purpose of this research is to design and build an application with the benefit of technology to produce a smart app in form of pamsimas payment with PPOB web service for dermaji village that still uses conventional method till this day. This pamsimas payment app was hoped to help the pamsimas payment process to dermaji villagers so that it'll be easier for them to do the payment. The app was designed in a way that it's as responsive as possible with the Hypertext preprocessor (PHP) and framework CodeIgniter to help the user to use and access this web service
Keywords
Aplikasi;framework CodeIgniter; Hypertext Prepocessor; Pamsimas; PPOB; Web service
References
Anisya, & Hidayat, W. (2017). Analisa Perancangan Aplikasi Pengolahan Data Akademik Berbasis Web. Jurnal TEKNOIF, 8-15.
Alihar, F. (2018). Penduduk Akses Air bersih di Kota Semarang. Jurnal Kependudukan Indonesia, Vol. 13 (1:67-76).
I Ketut Suharsana, I. W. (2016). Implementasi Model View Controller Dengan Framework Codeigniter Pada E-Commerce Penjualan Kerajinan Bali. Jurnal Sistem dan Informatika, 19-28.
Nazar, M. T., Azmeri, Fatimah, E. (2018). Evaluasi Keberhasilan Program Penyediaan Air Minum dan Sanitasi Berbasis Masyarakat di Kabupaten Aceh Besar. Jurnal Teknik Sipil Universitas Syiah Kuala, Vol. 1 (4:019-1026).
Noermayanti, Hermawan, Nuh, M. (2015). Efektivitas Penerapan Sistem PPOB (Payment Point Online Bank) pada PT PLN Area Madiun (Studi pada PT PLN Area Madiun). Jurnal Administrasi Publik (JAP), Vol .1, No. 5(972-980).
Prabowo, D. (2015). Website E-Commerce Menggunakan Model View Controller (MVC) dengan Framework Codeigniter Studi Kasus : Toko Miniatu. Jurnal Ilmiah DASI, 23-29.
Asmoro B., Rakhmadi A. (2014). Perancangan Aplikasi Pembayaran Rekening Pamsimas Sumber Agung di Desa Sukorejo Kabupaten Sragen Berbasis Website.
Kahret, T., Giza, K. (2016). Visual Studio Code Tip & Trik Vol. 1. Microsoft : Germany.
Peranginangin, Kasiman. 2006. Aplikasi Web dengan PHP MySQL dan XAMPP. Yogyakarta: Andi.
Pressman, S., Roger, Ph.D. (2010). Rekayasa Perangkat lunak Pendekatan Praktisi edisi 7 (Buku 1). Yogyakarta: Andi.
Redaksi. (2015). Warga Desa Dermaji Antusias Sambut Program Pamsimas. (https://www.dermaji.desa.id/warga-desa-dermaji-antusias-sambut-program-pamsimas/ , diakes tanggal 20 Februari 2019).
Tahap – Tahap Pengembangan Sistem menggunakan SDLC. Available: https:// www.rhs13.ugm.ac.id/. [Accessed 20 Februari 2019].
DOI:
https://doi.org/10.35970/jinita.v1i01.95
Article Metrics
Abstract view : 108 times
PDF (Bahasa Indonesia) - 25 times
Refbacks
There are currently no refbacks.
Copyright (c) 2019 Journal of Innovation Information Technology and Application (JINITA)

This work is licensed under a
Creative Commons Attribution-ShareAlike 4.0 International License
.
Indexed by:
Managed by.
Department of Informatics Engineering
Politeknik Negeri Cilacap
Jln. Dr.Soetomo No.01 Sidakaya, Cilacap, Indonesia
Telp: (0282) 533329
Email: jinita.ejournal@pnc.ac.id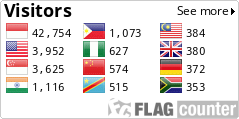 This work is licensed under a Creative Commons Attribution 4.0 International License.